This is a very exciting. On the back of our successful crowdfunding campaign, it's a splendid start to the season for the Bitterns in Rice Project. Thanks to the goodwill and generosity of Coleambally rice growers Bernard & Samantha Star, the first ever bittern friendly rice growing trials are underway!
They have donated a total of 15 ha in 5 bays. One will be pesticide free, while two will only receive minor treatment for bloodworm and barnyard grass in the early part of the season. These three aerially sown bays are adjacent to two other bays that will be managed as normal.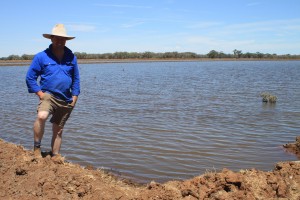 We'll be monitoring the frog and waterbird populations, as well as any bittern activity, throughout the season. It will be very interesting to see what differences there are. After harvest, we'll be able to compare the all important yield data too. This is a taste of things to come. In the future, with the necessary replication of different treatments, we'll be able to fully test the effectiveness of our bittern friendly rice growing tips.
Special thanks are due to SunRice Grower Services for donating the seed and to Coleambally Irrigation for their general assistance in making the trial happen.
It's been great to see some more early bitterns this week too. The rice is looking better by the day, especially at these more advanced crops. Perhaps these early birds are the ones that stay locally over winter, rather than those that move away after harvest. The first booms are imminent. Thanks to Peter Sheppard for this great shot from earlier this week.
And for anyone that uses Facebook, you can 'like' our Bitterns in Rice Project page to receive regular updates.