Wah Wah Water for Wildlife
Murray-Darling Basin – Wah Wah Water for Wildlife
What happens to local wildlife when the farming system they've come to rely on is transformed?
In the Wah Wah district, north of Hay in NSW, a new pipeline is set to boost water use efficiency. It will save an estimated 9000 megalitres for the environment each year. The Water for Wildlife project recognises that saving water for the environment doesn't need to be a case of robbing Peter to pay Paul.
In 2011, Matt began assessing the biodiversity values of the ground tanks, which are much like any small farm dams. These will be replaced with troughs, a suffice alternative for some wildlife but not others. This project is developing a number of demonstration sites to trial options for mitigating the loss of habitat when the pipeline is built and the ground tanks are retired. Maintaining a select number of ground tanks that are already significant for wildlife and enhancing their habitat through earthworks and fencing will increase shallows and enable waterplants to flourish.
Additionally, infrastructure to facilitate the delivery of environmental water to some of the region's Canegrass Wetlands will benefit hordes of biodiversity. Project partners include Murrumbidgee Landcare Inc., Hay Trees on Plains Landcare, the Murrumbigee CMA, Murrumbidgee Irrigation and the Australian Government Caring for our Country program.
A field day on June 25th 2013 showcased some of the on-ground works and a new wetland management guide was launched. ABC Rural were there to catch the action out on the Hay Plain. Here is their story.
A copy of the management guide can be downloaded on the link below but for a hard copy see Contact.
Wah Wah Water for Wildlife MANAGEMENT GUIDE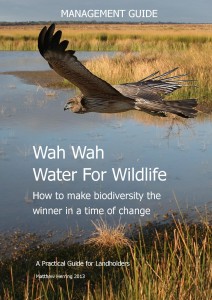 The July 2013 Australian Government's National Wetlands Update features an article about the Wah Wah Water for Wildlife Project on page 40/41. It can be downloaded here … National Wetlands Update July 2013
One of two ABC interviews from 2012 can be heard here …
http://www.abc.net.au/local/stories/2012/06/13/3524109.htm
A 2012 booklet, Wah Wah Wildlife Tanks to Troughs, summarises the results of the initial study that assessed the biodiversity value of the old system and considered options for habitat mitigation.
And for some more information on the project see Water For Wildlife in the Wah Wah District
http://haylandcare.org.au/node/60